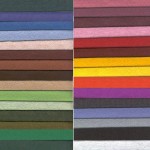 Felt is a kind of fabric that is made of animal hair or wool fibers by pressure and stream without knitting, weaving or spinning. Certain kinds of fibers like fur, wool and other kinds of hair fibers are joined together under a particular condition because of a specific feature and a massive degree of crimp.
So who are the felt products made?
The fibers are dyed after carding. Dyeing can either be done by machine or hand, though machine dyeing is preferred over hand dyeing from fast color. After the coloring process the labors press the raw material with hands with hot water and soap. There are no chemical additives and the felt product is fully handmade.
While the felt is still wet, it is given the shape of the product that has to be made. No patching or sewing is done to shape the product; the shaping is done by hand.  With a systematic way of rubbing and hand manipulation with the help of hot water the desired shape is achieved and then is sun dried.